heat it® - Special edition
NO MORE ITCHY INSECT BITES!
Note: No previous heat it® variant is compatible with the iPhone 15. We are working on a solution.
Exclusive in our online store
Brand new special colors!
If you want to order more than one heat it®, you can save extra. Add your desired products to the shopping cart. Our system will automatically activate the best possible discount code.

10% discount for 2 ordered heat it®
15% discount from 3 ordered heat it®
Special Edition Information

Technically, there is no difference to the classic heat it®. Only the color and the product packaging are different.

The Android variant is available in turquoise
The iPhone variant is available in charcoal. For optimal visibility of the heat it® LED, part of the interior is turquoise.

Further color variants are not planned for the time being.

heat it®
Insect bite healer
heat it® is a medical product for the relief of itching & pain from insect bites. Through the treatment by means of heat, itchy stings can be relieved quickly and easily with the smartphone.
heat it® for iPhone 6s to 14 (Lightning)
A chic charcoal finish. For optimal visibility of the LED of the heat it® is a part of the interior in turquoise.
heat it® for Android (USB-C)
As blue as the sea in the Caribbean, or as others say: turquoise.
Five good reasons
heat it® can be used for insect bites caused by mosquitoes, horseflies, bees and wasps. Just heat it!
Medically confirmed active principle

To relieve itching & pain, the affected skin area is briefly heated to around 51 °C. By using concentrated heat, you can treat insect bites reliably and easily. This chemical-free active principle of local hyperthermia is medically confirmed.
Always with you on the keychain

Small, handy and robust, heat it® is your ideal companion in everyday life, while traveling or during sports. The compact design means you always have it on your keychain and are prepared against itchy insect bites.
With our app you can individually adjust the treatment to your personal feeling. Therefore, heat it® is also perfectly suitable for children from 4 years (self-application from 12 years). All in all, the free and intuitively designed heat it® app offers 12 different treatment options.
Chemical-free & sustainable

heat it® works only with natural heat and completely without chemicals. By not using your own batteries, you can benefit from a sustainable product without follow-up costs. We also use plastic-free product packaging and ship all orders climate neutrally with DHL GoGreen.
Treat insect bites in moments with your smartphone. Simply plug heat it® into the charging port and the heat it® app opens. If necessary, you can now individualize the treatment. After a short heat-up, the contact surface of the heat it® is placed on the bite. Depending on the setting in the app, the treatment lasts 4, 7 or 9 seconds.
Compatibility
Please check whether your smartphone is compatible with the heat it®. The corresponding heat it® app is available free of charge at Google Play and at the Apple App Store.
Apple iPhones (Lightning)

heat it® for iPhone has a Lightning connector and is compatible from iPhone 6s to 14. The Apple MFi certification ensures best functionality and highest security.

The iPhone 15 is equipped with a USB-C port. The current heat it® for Android (USB-C) is not compatible with the iPhone 15. We are working on a solution and ask for some patience. It is also unclear if there will be a compatible USB-C to Lightning adapter that will allow the continued use of the current heat it® for iPhone.
The Apple MFi certification ensures best functionality and highest security. Your iPhone and its battery are optimally protected.
Android Smartphones (USB-C)

heat it® for Android is compatible with Android smartphones with a USB-C port. On some smartphones from OnePlus, OPPO or VIVO, the "OTG" function has to be activated manually.

Older Android smartphones with Micro-USB port must support the OTG standard and require an adapter. These Micro-USB smartphones are unfortunately not compatible:
- Huawei P9 lite
- Samsung Galaxy A5
- Samsung Galaxy A6
- Samsung Galaxy A7
- Samsung Galaxy A10
- Samsung Galaxy J5
- Samsung Galaxy J530
- Samsung Galaxy S5 neo
- Samsung Galaxy S5 mini
- Cubot Note S

Note: The current heat it® for Android is not compatible with the iPhone 15. We are working on a solution and ask for a little patience.
heat it® and the corresponding app were developed specifically for smartphones and are not optimized for tablets. In addition, the application is much easier and handier with a smartphone.

heat it® for Android can still be operated on an Android tablet.

For technical and approval reasons, heat it® cannot be used on an iPad (Lightning or USB-C connector).
We follow the specifications of the smartphone manufacturers regarding free space around the charging port. Almost all manufacturers of smartphone cases also do this and the heat it® can be inserted into the smartphone with a case without any problems. The rare exception are extremely massive outdoor cases.
Quality promise
As a medical device, heat it® meets the highest standards. Our quality management is TÜV Süd certified. Your smartphone and its battery are optimally protected thanks to a sophisticated security concept.
Minimal battery consumption

Up to 1,000 treatments at the highest level are possible with a full smartphone battery. That's enough for you, your family and friends.
We are Kamedi GmbH - a dynamic Karlsruhe startup with its own development and production. From procurement, to production, to shipping: we leave nothing out of our hands. Made in Karlsruhe since 2018.
100 days trial & 2 years guarantee

Convince yourself of the little miracle weapon against insect bites. With the extended right of return, you can put heat it® and its proven active principle to the test without risk.

High-quality and durable products are our top priority. heat it® should be your reliable companion in every life situation. However, if a defect should occur, our 2-year guarantee will apply in addition to the statutory warranty. Just heat it!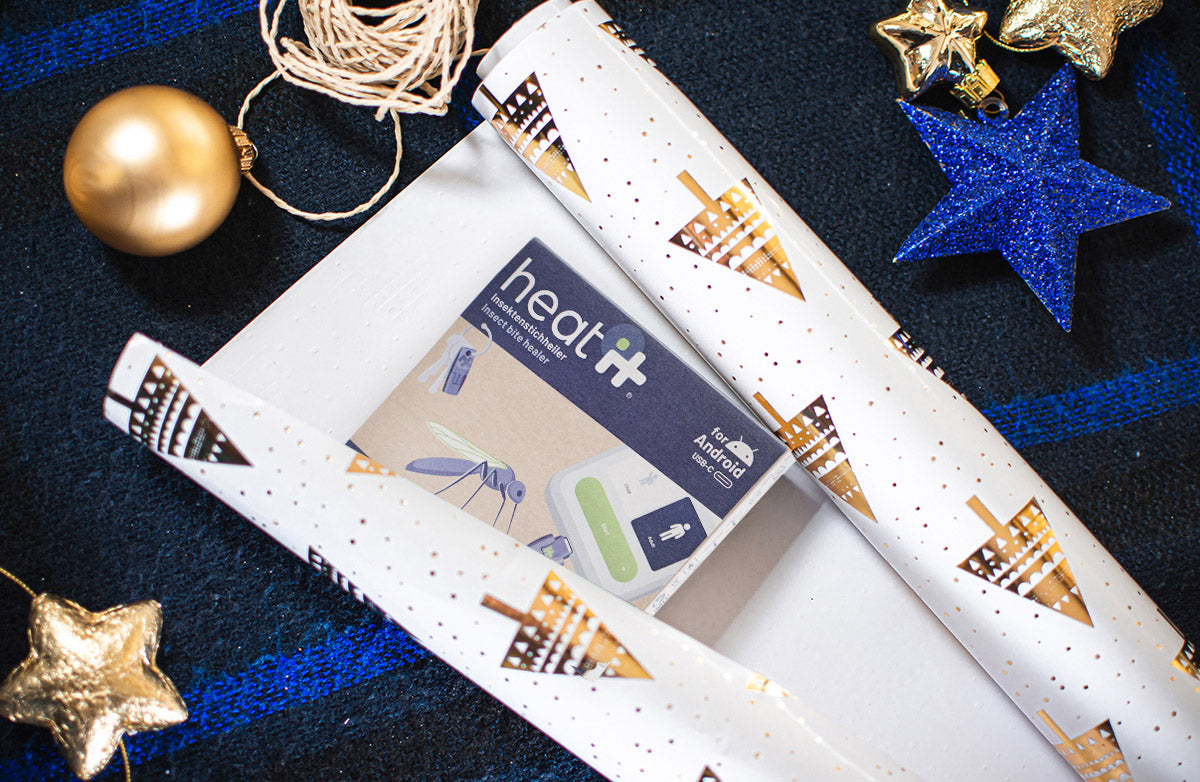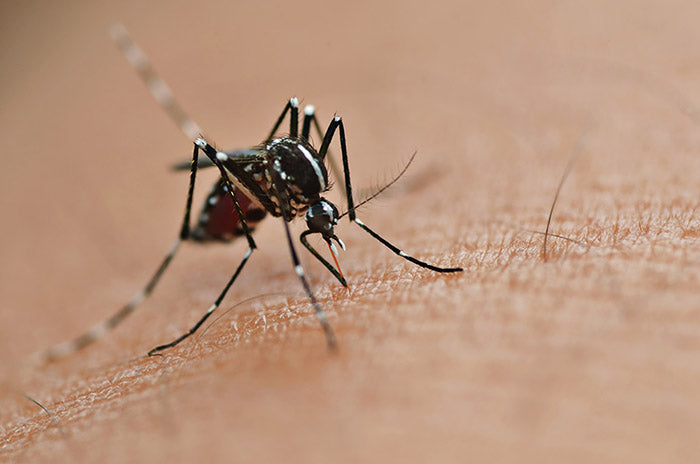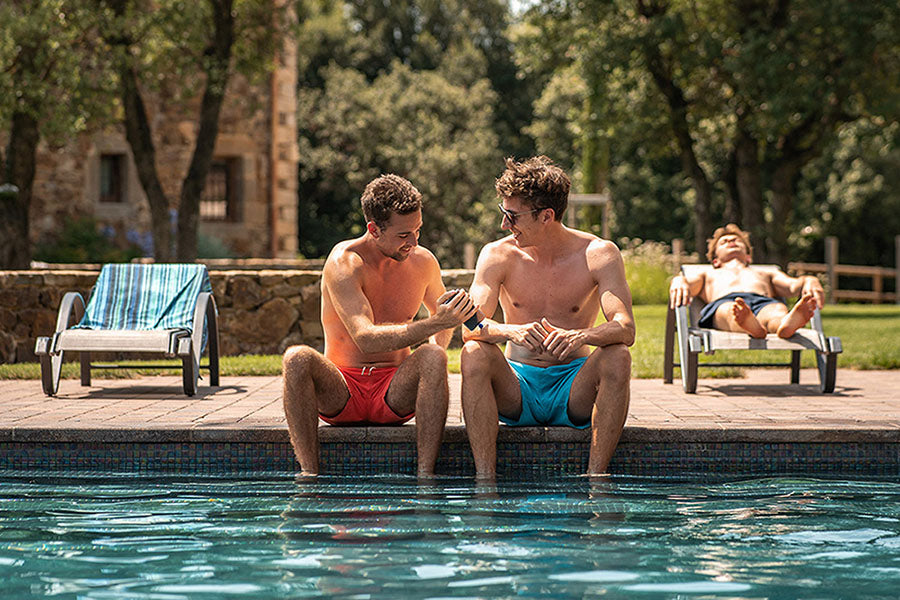 Your ideal companion
Summer, sun, mosquito bites
Summertime means mosquito season. Turn your smartphone into a little wonder weapon and don't let yourself be bothered by itchy insect bites. And best of all: heat it® is always on your key ring. Just heat it!
Working principle
Why mosquito bites itch?
Itching is the body's reaction to the mosquito saliva injected during the bite. Our immune system fights back by releasing histamine. As a result, the blood vessels dilate, the bite swells and begins to itch. Heat treatment of the bite causes various endogenous reactions that can relieve itching and pain.
Give an itch free summer
A unique present
Are you still looking for the perfect gift for a birthday or another occasion? With heat it® you can create a special surprise. It's obvious, who does not like to get an itch-free summer time as a gift?
Technical details
Product specifications
Connection type
- USB-C for Android (not suitable for iPhone 15)
- Lightning for iPhone 6s to 14
Weight and size
4 grams / 37,4 x 17,5 x 8,5 mm
12 Treatment options
47 - 52 °C / 4, 7 or 9 seconds
Age restriction
From 4 years (self usage from 12 years)
Power consumption
approx. 0.1% of the smartphone battery per treatment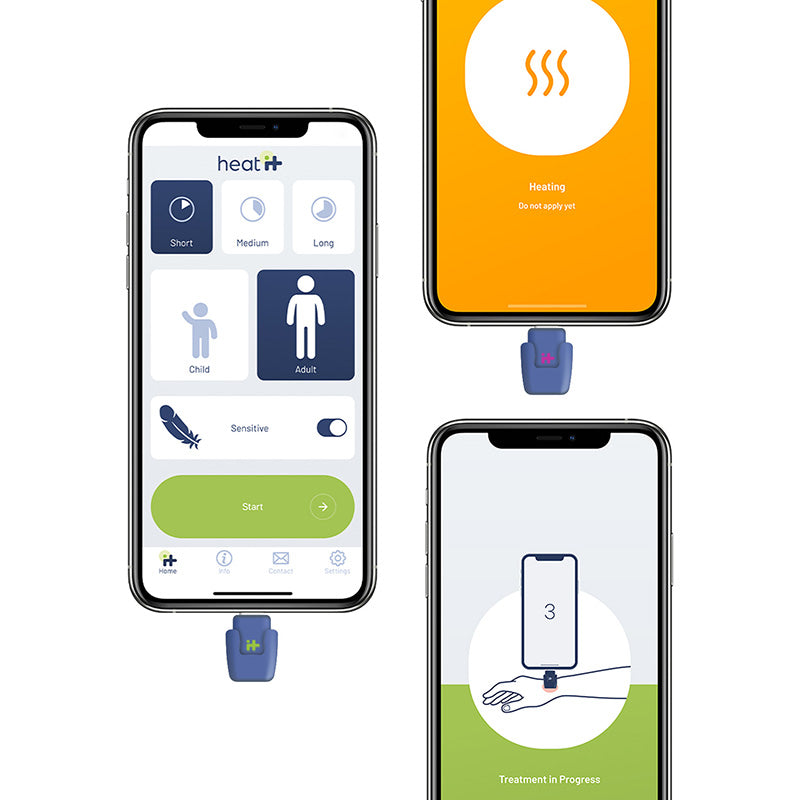 The heat it® app
The free and intuitively designed heat it® app is the central element for using heat it®. The innovative coupling between the insect bite healer and the smartphone has already convinced more than 300,000 users, who together have carried out more than 5 million treatments. So you're in the best hands. Get inspired by customer reviews below!
This product is rated 5.0 of 5.0 stars.
It has received 206 reviews.
Produkt und Service: vorbildlich und genial
Habe schon seit vielen Jahren die kleinen Teile. Für iPhone und Android. Der Support reagiert schnell. Persönlich und kundenorientiert. Unglaublich, wie schnell die sind. Die kleinen Stecker sind einfach toll. Freu mich schon auf die Apple-USB-C-Variante. Macht weiter so !!!
tolles Produkt, toller support
funktioniert perfekt, hab HeatIt Gekauft um mein 'altes' Gerät mit Batterien zu ersetzen, da ich es nicht dabei hatte wenn ich es gebraucht habe (zu gross). HeatIt am Schlüsselbund ist immer griffbereit, und App kann für mich und auch meine Frau (sensitivität).
Perfekt 👌
Ich bin total zufrieden mit heat it. Ich wollte mir erst einen aus der Apotheke kaufen, jedoch hatte ich zufällig auf Instagram Werbung gesehen und fand die die Größe von Heat it sehr praktisch. Ich bin begeistert und habe mir vor kurzem noch einen zweiten für meinen Mann bestellt.
Liebe Grüße, Susanne aus Bremen
⭐️⭐️⭐️⭐️⭐️
Alles bestens- gerne wieder 👍
Mein eigener Heat it musste her
Hab meinen Heat it noch nicht benutzt aber den meines Mannes ein paar mal die letzten Jahre in Anspruch nehmen müssen. Funktioniert super das Teil. Und nachdem ich nicht immer mit meinem Mann unterwegs bin, demnach auch den Heat it nicht immer dabei hatte hab ich mir jetzt einen eigenen bestellt. 😊👍
Sehr zu empfehlen.